Player Roster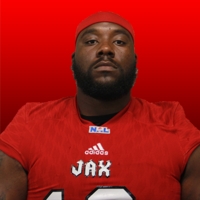 Active
Derrick Zeigler
#66
Position:
OL
Date of Birth:
12/13/1987
Height:
6' 5"
Weight:
320 lbs
Pro Experience:
2 Years Pro
College:
Northeast Mississippi Community College
Birthplace:
Elmore, AL
Biography:
Transaction Notes
Re-signed with the Sharks Oct. 16, 2019 for his third season of arena football and third with the Sharks. (Jacksonville Sharks: 2018-Present).

Professional
2019: In his second year with the Sharks, Zeigler helped Jacksonville to one of the top offensive lines in the league. Zeigler and the Sharks O-Line led the Sharks offense to the number one scoring offense in the league as well as number one in total offensive yardage. The offensive line also allowed the fewest sacks in the league only giving up 12 all season. Zeigler was named First Team All-NAL and won Offensive Lineman of the Year. 2018: In his first year with the Sharks he played in 11 games where he helped the Sharks to the playoffs in his first season. Zeigler earned First Team All-NAL honors, he was the only offensive player in 2018 on the Sharks roster to earn this title.
College
Zeigler attended Northeast Mississippi Community College.
Personal
Zeigler is a native of Elmore, AL and played football at Holtville High School in Holtville, AL.