Player Roster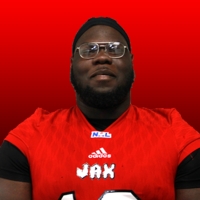 Active
Mike Williams
#40
Position:
OL
Date of Birth:
03/14/1995
Height:
6' 5"
Weight:
330 lbs
Pro Experience:
1 Year Pro
College:
Jacksonville University
Birthplace:
Prince George's County, MD
Biography:
Transaction Notes
Re-Signed with the Sharks for the 2020 season for his second year of arena football. (Jacksonville Sharks: 2019-Present).
Professional
2019: In his rookie season of arena football, Williams helped the Sharks to one of the top offensive lines in the league. Williams and the Sharks O-Line led the Sharks offense to the number one scoring offense in the league and number one in total offensive yardage. The offensive line also allowed the fewest sacks in the league only giving up 12 all season.
College
Williams spent most of his college career at Villanova (2013-2016) where he played both offensive line and defensive line. He redshirted his freshman and recorded five starts during his career at Villanova. He transferred to Jacksonville University as a redshirt senior in 2017. He played in 11 games as a defensive line recording 24 tackles, 4.5 tackles for a loss and two sacks.
Personal
Williams is a native of Prince George's County, MD and attended Archbishop Spalding High School where he was First Team All-State and played in the Chesapeake Bowl.