Player Roster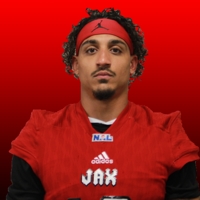 Active
Cody Saul
#2
Position:
WR/LB
Date of Birth:
09/04/1991
Height:
6' 3"
Weight:
220 lbs
Pro Experience:
2 Years Pro
College:
Mesa Community College
Throws:
R
Birthplace:
Mesa, AZ
Biography:
Transaction Notes
Re-signed with the Jacksonville Sharks Oct. 13, 2018 for his second year of arena football and second with the Jacksonville Sharks. (Jacksonville: 2018-Present).


Pro Experience
2019: In his second year with the Sharks Saul started 15 games at the Jack Linebacker position. He recorded a league leading 68.5 tackles (47 solo, 43 assisted) along with 9 interceptions returned for 110 yards and three touchdowns and was named First-Team All-NAL. 2018: Saul signed with the Jacksonville Sharks in 2018 for his first year of arena football. During his 12 games, Saul caught 40 passes for 442 yards, averaged 37 yards per game and scored seven touchdowns.
College: Saul attended Mesa Community College in Mesa, AZ and played in 11 games, recorded 1,267 yards and 14 touchdowns with the Olympians.
Personal: Attended Red Mountain High School.
Career Statistics »
| Year | League | Club | RUSH ATT | RUSH YDS | RUSH TDS | RECEPTIONS | REC. YDS | REC. TDS | RETURNS | RETURN YDS | RETURN TDS | TACK | AST | SACKS | PB | FF | FR | BLK | INT | YDS | TDs |
| --- | --- | --- | --- | --- | --- | --- | --- | --- | --- | --- | --- | --- | --- | --- | --- | --- | --- | --- | --- | --- | --- |
| 2019 | National Arena League | Jacksonville Sharks | 2 | 3 | 0 | 11 | 123 | 2 | 0 | 0 | 0 | 68.5 | 43 | .0 | 4 | 1 | 2 | 0 | 9 | 110 | 3 |
| 2018 | National Arena League | Jacksonville Sharks | 0 | 0 | 0 | 40 | 442 | 7 | 0 | 0 | 0 | 17.5 | 3 | .0 | 0 | 0 | 1 | 0 | 0 | 0 | 0 |